ONLINE AND LIMITED IN-PERSON EXPERIENCES
The Elora Singers Return to the Stage in 2021
The Elora Singers are excited to announce a return to in-person performances this fall, with three limited-capacity live concerts.
These concerts will also be offered in an online format from the premiere date through January 7, 2022.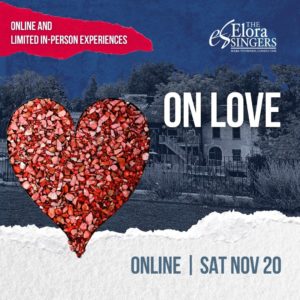 On Love
The Elora Singers present the world premiere of "On Love", a commissioned work by Canadian composer Timothy Corlis set to the poem by Kahlil Gibran and sung in English and Arabic. Also on the program will be settings on the theme of love by Duruflé, Clausen, Willan, Pärt, Finzi, Enns, Sheppard and Shaw.
SATURDAY, NOVEMBER 20 at 7:30 PM
Available to watch through January 7, 2022.
Bach & Handel:
Music for Advent & Christmas
The Elora Singers present Bach's Advent Cantatas and the Christmas excerpts from Handel's Messiah, with chamber orchestra and soloists from the ranks of the choir.
Sponsored by Peter Barr & Wendy Donohue
Supported by Mark Vuorinen & Natasha Campbell
SATURDAY, DECEMBER 4 at 7:30 PM
Available to watch through January 7, 2022.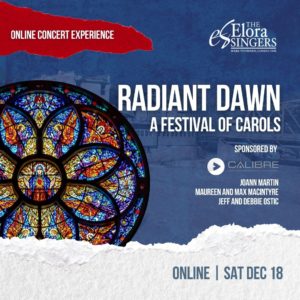 Radiant Dawn:
A Festival of Carols
Christopher Dawes, organist
The Elora Singers' annual Christmas concert will feature repertoire from the Singers' new Christmas CD.
Sponsored by

JoAnn Martin, Maureen and Max MacIntyre, Jeff and Debbie Ostic
SATURDAY, DECEMBER 18 at 7:30 PM
ONLINE
Available to watch through January 7, 2022.
We are offering tiered pricing for our online concerts.  Please consider the number of people watching with you and what you might spend for a similar experience in person.
$20 / $40 / $60
Student/Arts Worker Ticket
$15
We are proud to offer special pricing for university students and our colleagues from other arts organizations.   
$15