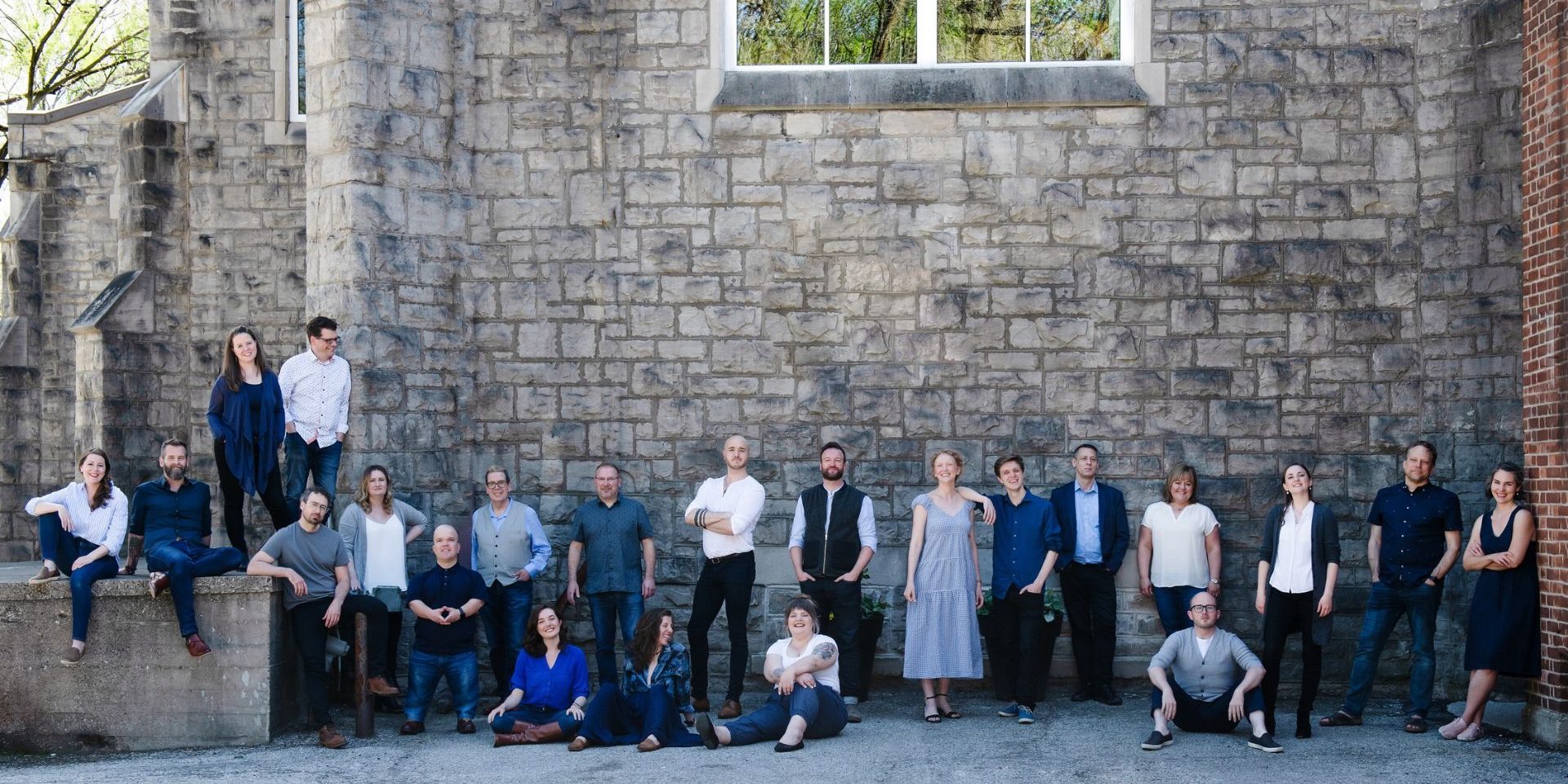 The 2022/2023 Elora Singers
It was a great pleasure for the State Choir LATVIJA to perform with The Elora Singers at The Elora Festival in 2019. The Elora Singers have rich and shimmering voices that blend seamlessly to produce an exquisite choral sound of the highest artistic standard. We hope to have an opportunity to work together again in the future.  

Māris Sirmais, Artistic Director, State Choir LATVIJA (2019) 
Under Mark Vuorinen's direction, The Elora Singers perform each song, each composition like a vibrant painting or a deeply personal story. That's why I find their performances to be so lively, beautiful and inspiring!

Ēriks Ešenvalds, composer (2020)
It is not often when a choral recording manages to capture the vastness of universal themes and simultaneously places an apt spotlight on the humanitarian crises afflicting women and young girls around the world due to the violence created implicitly in colonization. What places this recording in a wholly new category are the profoundly impactful compositional voices of Indian-American composer Reena Esmail, and Odawa First Nation composer Barbara Croall.

T.J. Harper, D.M.A., International Choral Bulletin (April 2021)
2023 AUDITIONS 
Please check back later in the spring for audition dates or sign up for our newsletter to be notified.
All singers wishing to audition must show proof that they are fully vaccinated.
---
A positive personality, strong musicianship skills, excellent sight-reading skills and previous choral experience are a must. These positions are casual part-time.
For the audition, singers are asked to prepare one or two pieces, preferably art song or oratorio in contrasting style, to demonstrate musicianship and vocal range (an accompanist will be provided for you at no cost to you). Applicants may also bring an accompanist at their own expense.
In addition, applicants will be given a sight-reading test and an ear test.
Those wishing to audition should also include a one-page resume, briefly outlining solo and choral experience.
The Elora Singers are available for public and private events, with ensembles ranging from a quartet, to the full choir of 24 choristers.
The total cost depends on a number of factors, such as how many singers are required, and the distance from Elora to the performance venue.
In Canada, please contact:    Christina Stelmacovich
Outside of Canada, please contact:   Laura Adlers